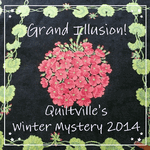 The fifth clue came out this last Friday. I scurried around the house, cleaning and getting ready for guests this weekend, just so that I could spend a few hours in the sewing room to cut out and sew this next clue.
The reason I was able to get it done in a couple of hours, is because there were only 28 units to make, as opposed to hundreds of units in the previous clues.
As this mystery quilt keeps moving along, I am liking my choice of fabric (Thimbleberries) and I am hoping it will be as well liked when it all gets sewn up.
I will be linking up on Bonnie's
blog
on Monday. Take some time to look at the others in the link up party when she puts it up on Monday morning.
Now, I'm on to waiting a whole week for the next clue to be posted. Sigh!
Warmest...