I have been following Bonnie Hunter's blog Quiltville for some time now, and have been fascinated with her scrappy quilts. Then I discovered this November, that she has a Mystery Quilt every year. I grabbed her button if you would like to follow along with this Mystery Quilt process. The requirements were posted about a month ago and the first clue was posted last Friday. A new clue is posted every Friday until the the first of January. If you have lots of stash and scraps, and have some time and want to join in the fun, then head on over to her blog and check it all out.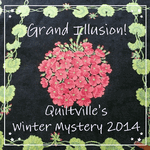 Also, every Monday after each clue has been posted on Friday, there is a link up party of many participants who are actually getting some of the clues done to show off to each other. This Monday link up and be found here by clicking on
Quiltville Link Up
.
I decided at the last minute, Thanksgiving Day actually, to pull from my stash and scrap baskets to participate in this Mystery Quilt. I have had lousy luck in the past with Mystery quilts, but Bonnie Hunter's scrap quilts and past Mystery Quilts, are just gorgeous and I would like to use up some of my stash and scraps to something other than a simple nine-patch.
True to myself and what I like best, I went with Thimbleberries fabrics from the numerous past projects I have done. I was able to pull enough fabric (and then some) from the baskets, and will be able to make the whole quilt which will measure 88" X 88". The gold is the consistent fabric through out this quilt, just like the yellow is in Bonnie Hunter's color way. The rest of the colors will be totally different prints of each color way to make it truly scrappy.
Below shows two units I put together just for the link up party today. I have most of my half square triangles (280 sets) done, and will be putting together these units the rest of the week, so that I will be ready Friday for the next clue.
Warmest...