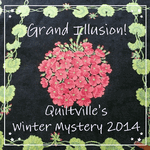 Friday part 2 was posted for the Grand Illusion Mystery Quilt, and once again Facebook was full of fervor and flooded with so many participants posting about it. So many of the participants were in total despair and complaining about struggling with the construction of the unit and or not understanding the directions.
When I was reading the directions, Bonnie Hunter, started out by telling us that she was going to give us three ways to accomplish this unit. Reading through the first two I knew I would not be following those directions (paper piecing and speciality ruler). By the time I got through Bonnie's third way of making this unit I knew that I could and would be doing these units doing it this way. So all was good in the neighborhood.
The directions called for the neutrals to be used, and I felt a little uneasy about the amount of actual"Thimbleberries" neutrals that I had, and really wanted to try to stick with just the line of Thimbleberries fabric. Somewhere in the back of my mind I knew I had more scraps or fat quarters of this fabric. Then the light bulb went on!!!!!
Quite a few years ago, (while I was working) I participated in a monthly program through Keepsake Quilting called Thimbleberries Medley of the Month. Every month they would send you 6 fat quarters of the different lines of fabric that came out throughout the year. I think I participated for about three years. But I had them up high in the back of a closet, so they were kinda out of sight, out of mind. I squealed with delight (I think the dog thought I was crazy) when I came across 12 fat quarters of neutrals!!!! Finding these, I now know I have enough for the parts of this mystery quilt.
This picture shows the first two units that take six individual pieces. I need to make 100 of these units. By the end of the day Friday, after cutting out all the pieces, I managed to get about one fifth of the units done, (update: by end of the weekend I constructed 35 units, more than a third of the required 100, considering we had a trade show this weekend and I could only get some sewing in Sunday night!) including the constructions of these:
As a bonus, it was suggested that the cut of portions of the top and bottom of these units could be made into these half square blocks. When all the part 2 units are done, there will be 400 of these blocks available to be used for a bonus outer border of the quilt. I will be doing this, by alternating a black and a red all the way around the quilt, framing the finished quilt.
This just gets better every time a new part gets posted!!
I will be linking up on Bonnie's site
here
.
Warmest...