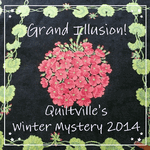 Clue 3 came early Friday morning for the Grand Illusion Mystery Quilt, and by Friday afternoon, I was able to get started on this next part. I gathered all the required materials. Remember my blue is the green in Bonnie's color way. This part calls for neutrals, black, and green (mine is blue).
Here you can see I have a strip already sewn together for the next step of cutting it in pieces the make the completed unit below.
By the end of the weekend, I have finished all the units for this clue as seen below:
Facebook is still in a flurry of posts about this Mystery Quilt, and one person asked how we were all keeping our clues organized. It was an eye opener that the majority of people working on this were not organized in any way. I couldn't even begin to imagine not being organized!!! I collect cardboard box bottoms that hold canned goods from grocery stores. They are sturdy, and I use them like trays. I have various sized that I can use for different sized projects. They keep my project organized and all in one spot. They are stackable, can hold a complete project, and when and if it becomes broken down, it can be easily replace for free!
This shows how all parts of the Mystery Quilt so far and how it fits in this box. From left to right clue 1, clue 2 and clue 3, with the remainder loose half square triangles that will be used later, and the bonus "mini" half square triangles that will be used in the end as a border all around the quilt. Its all organized ready to go when the final assembly is ready to start. Kinda looks like I will have to break out another box bottom for the rest of the clues coming up this month.
I have linked my post on this clue on Bonnie's blog, and if you are interested in seeing what others are doing in regards to this mystery quilt, click
here
to check out all the flurry of excitement!!
Just a note, if you have read all the way through my post, I have a brand new, never used book of an author that Bonnie sells on her web site. It is called Nickel Quilts by Pat Speth, and has 20 scrappy patterns in this book. I have since purchased Pat Speth's late book which combined this book and her other book "More Nickel Quilts" together in one book. If interested in purchasing it, I have it as a listing on my ETSY site
here
.
Warmest...