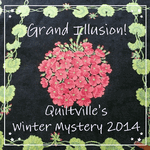 New Year's eve at midnight, Bonnie Hunter revealed what the final quilt will look like and how to assemble all the clues. Here is the layout of the block in my Thimbleberries color way.
This is a picture of the block with the sashings between each block.
There is the fervor all over Facebook is about how the participants are not happy with the way my colors are working when the do their first block. A lot of disappointment is circulating with the participants. But, you need to look at the quilt as a whole with all the blocks sewn together. Not just focus on one block. Visit Bonnie's site
here
to see the whole quilt done in her colors and you can see the blocks taking on a spinning motion and the quilt looks like it is moving. It really is a fun kind of quilt! Some participants are even changing up the block by switching out the center four-patch with a solid color matching the star points (so if I would be doing this, my center block would be red). But, I really like the movement in Bonnie's quilt, so I am going to stick with the original pattern, and I already have the center four-patches made anyway.
I will be
linking up
with Quiltville's post this coming Monday, and hopefully have more to show in finished blocks and maybe a finished quilt top.
Thanks for following along this amazing mystery journey with me!
Warmest...